Splashpads®
Refreshing, Intense Fun
A Splashpad®, also known as a spray park, spray ground, or water playground is a dynamic, zero-depth aquatic play area that provides endless hours of fun for the entire family without the need for a lifeguard. A Vortex Splashpad® combines the sensations of different water movements – flowing, misting, jetting – with 5 major design lines and over 250 diverse products for an unequalled aquatic play adventure. Splashpads® can be big or small to fit any space and budget and encourage physical, functional and social development for children of all ages and abilities. Municipal parks, aquatic centers, residential developments, hotels and resorts, family recreation centers and amusement parks are just a few of the places where Splashpads® enrich community lifestyle and enhance guests' experiences.
World Leader In Aquatic Play
Power Play is the representative for Vortex Aquatic Structures in Oklahoma, Arkansas, Kansas and Missouri. Vortex is the world leader in aquatic play landscapes and entertainment with installations at more than 8,000 locations around the world in public, commercial, and entertainment settings. Vortex provides imaginative, durable aquatic play and water feature solutions that create everlasting memories. Their ongoing mission is to develop fun, safe and reliable products for families and children of all ages and abilities.

Vortex Splashpad Collections
Vortex offers several collections and design lines to choose from to create a unique and fun experience. With more than 250 different products and many color options, the possibilities are endless. Visit the Vortex website to view their entire line of products.
Ocean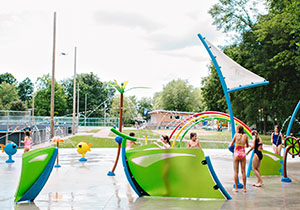 Nature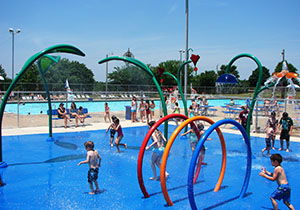 Urban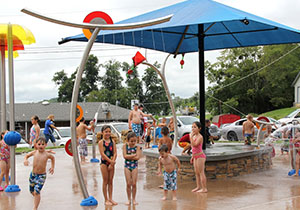 Companion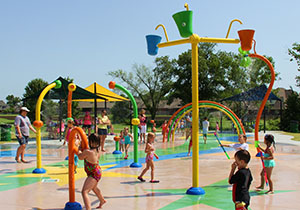 Explora

Themed

Elevations™

Vortex Water Journey™
Create Vibrant Public Spaces
Inspired by nature's flowing streams, Water Journey™ is a collection of 4 events providing different play experiences. Whether it is a single event or multiple connected together, Water Journey™ creates vibrant spaces inviting everyone to play, socialize or just contemplate. Divided into four events — Labyrinth, Jet Dance, The Race, and Tide Pool — Water Journey's features are designed to stimulate children of all ages physically, intellectually, emotionally and socially to learn by doing and playing. Maneuverable levers, water gates and pumps create an exciting chain reaction of water effects to capture the imagination, encourage teamwork and teach the relationship between cause and effect. Flexible in configuration, Water Journey™ is available as a single event or as a set of events to fit any specific space and design.