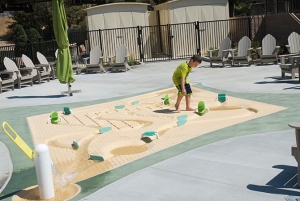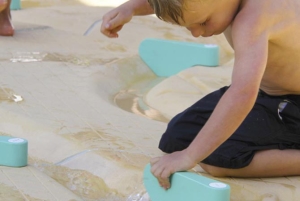 Innovative Aquatic Play Solution Recognized at Annual Award Gala.
MONTREAL, QC—Vortex Aquatic Structures International, a leader in the manufacturing of aquatic play landscapes and entertainment solutions, is pleased to announce that it has been awarded with a GRANDS PRIX DU DESIGN Award for its Water Journey™ aquatic play solution. Water Journey™ was developed by the design firm Dikini and Daily Tous les Jours and is marketed by Vortex.
Water Journey™ is manufactured and distributed by Vortex and provides landscape architects and designers new opportunities to create multi-generational inclusive play and relaxation areas. This unique product was created to imitate nature's water systems. Water Journey's interlocking sets offer both an interactive experience for children along with a communal meeting area for parents to gather and watch water on its journey downstream.
Water Journey™ is broken up into four events—Labyrinth, Jet Dance, The Race and Tide Pool. These features are designed to stimulate children of all ages physically, intellectually, emotionally and socially. Water Journey™ creates an exciting chain reaction of water events through its maneuverable levers, water gates and pumps. This chain reaction captures the imagination, encourages teamwork and teaches the relationship between cause and effect. Water Journey™ is flexible in configuration and is available as a single event or it can be combined as a set of events to fit any specific space and design.
Water Journey™ was recognized by the jury for its high-quality design and attention to aesthetic detail and the award for Best Street Furniture was among the many exciting projects showcasing the talent of Quebec designers and architects in the fields of commercial, institutional and contract projects and product designs. GRAND PRIX DU DESIGN winners and their projects are celebrated and recognized at the annual gala. Along with this award and recognition, Water Journey™ will be featured in a special edition of INTÉRIEURS magazine.
President and CEO of Vortex, Stephen Hamelin said, "We are always searching for new ideas to develop unique solutions that encourage the imagination of our clients and users." Hamelin stated, "It is an honor that Water Journey™ won and we will continue to innovate and push the boundaries when it comes to aquatic play experiences."
About Vortex
Vortex Aquatic Structures International, headquartered in Montreal, Canada, was founded in 1995 with the introduction of the first Splashpad®. Vortex's use of the highest quality materials coupled with unique, inspiring design and state-of-the-art engineering, positioned the company as the world leader in aquatic play solutions.
In addition to its operations in Montreal, Vortex has regional sales and technical support offices in California, Michigan and Texas in the USA, Lyon and Paris in France, Valencia in Spain, and Shanghai and Beijing in China. The company has a global marketing and distribution network supporting Europe, Asia, the Middle East, Australia, and Latin America.
With over 6,000 installations worldwide, Vortex's mission is to lead the aquatic play industry by continuing to develop the most fun, innovative and safe products for families and children of all ages and abilities.
For more information on Vortex Splashpad®, Poolplay™, Spraypoint™, Water Journey™ and Watermark solutions, please visit the company's website at www.vortex-intl.com.